PX3 Field Report
Where do I begin….? Well obviously from the beginning but from which beginning? The first official day of PX3? The day I arrived into PHX? How about the day I received the acceptance email from Bravo? How about the day I applied to PX3? No, none of those times are the real beginning of my journey to Project X. To understand and appreciate any aspect of my experience of Project X you and I must understand where I started in this journey.
I was just a young lad of 7 years old and my mother………………….KIDDING!
I'll save you guys the details but it is important to me to understand the craziness of this thing we call life and how I came to be a part of such an amazing experience. IF I hadn't found Bravo then God only knows what shit hole of a mess I would still be in. Most likely still a paying member of SLA…and going to some half assed overpriced faggoty bootcamp…
That is how I found Bravo; through SLA. I found SLA academy from reading "The Game". I found "The Game" through my uncle who could see how I was still not over my ex-wife even after a year after the divorce. He could tell how I wasn't happy even though I put on the fake smiley face and told everyone I was happy. He could see through it. I'm glad he did because if he didn't I likely wouldn't be typing this up right now…
September 2011 I join SLA. Almost one year after my divorce from my high school sweet-heart. We married when I was 20. We divorced when I was 23. Painful shit can happen when you don't know what the fcuk you are doing and you let a women take over your world…
November 2011 I find the BravoHood through an old post of Bravo's on the SLA Forum. If I hadn't found that post I wouldn't be typing this right now. Amazing thing is that not much longer SLA took off the info of Bravo's website from SLA…Chaos theory and Butterfly effect in play.
January comes and I start some coaching calls with Bravo. We work on some issues and sticking points of mine. I read the experience of PX2 from DJNinja. I ask Bravo when the next PX will be and how to get accepted into the PX BrotherHood…
Fortune comes upon me because Bravo decides to hold one more Project X before the summer comes to Phoenix. I apply immediately when he sends out the application email. I cross my fingers and hope the PUA gods favor me…A week later I receive the admission email! I know this weekend has been in the works for me for almost 2 years!
Before my PX3 brothers and I even meet in person we meet on the in digital medium of the internet. We get to know each other the best we can before we meet up. We are after all going to be eating, shitting, and sleeping PU with each other in close quarters for 3 days! We count down the weeks and days to PX3! It can't get here soon enough. Sadly though I know that as soon as we meet for PX3 in Phoenix we will be saying our goodbyes from each other.
Thursday April 26th I fly into Phoenix. I am the first to arrive. I am also the closest to PHX so that makes since. Everyone else travels a great deal to make this perilous journey. The journey of becoming Men who take control of their love lives and their destiny!
Next to arrive is Nomad. Not much longer Riddex, Kaboom, and Cupid arrive. Five of the six PX3 crew have arrived. The last one, BigJefferey, has still not made it into Phoenix. The five that have arrived decide to make their trek out and about our future stomping grounds. We meet up the DK's. Awesome and funny guys! Hope to roll with them again in the future.
Kaboom getting his dance on!
Midnight comes and BigJefferey has still not been heard from. 1215am comes and we decide to head back to the hotel. Bravo gives us the command of arriving into the main room at 0850 sharp! BigJefferey makes it finally in around 1230! We greet him with open arms and joyous laughter! So loud we are threatened by the hotel staff that we will be kicked out if they have to warn us again…This happens again Sunday…
We wake up Friday morning, get breakfast at the most expensive buffet I have ever eaten. Then we have to take care of some money issues with the incompetent hotel staff. They act like they have never split a room charge 6 ways before! Useless cunts!
Finally we make it the main room by 0915! We go through and there he is…The main man himself. BRAVO and all his glory! He greets us with his might and muster. We tremble in his wake! Next we officially meet The Coaches: Maestro, Smoothcall, and Farmer. Bravo's Colonels for the battlefield. Bravo is their General and commander of all us for the weekend. Boom is assisting, so maybe he would be at the rank of Major...
We place our bags and go right into the fray. We get out our laptops and go straight into material after introductions from everyone. We have to get through as much as possible before the infamous Steve P. arrives.
And shit just got real. Steve P. arrives and immediately everyone's jaws drop. The mythical stories of Steve P. are not myths but very real and very true. He holds nothing back and is strait forward with his answers. No wonder Bravo likes him!
PX3 Crew with Steve P.
After some time hanging with Steve P. he and his assistant, Danguess, has us all under with double induction hypnosis. He is unleashing the beasts within us all-the hungry wolf that lies within our souls. You can see it in our eyes. We must be unleashed throughout the night!
After that mind fuck we go straight back into material with Bravo. We don't stop for anything! Bravo orders lunch but we eat while lecture still continues. NO TIME IS WASTED! We go into lectures on Opening, Crutches, DHV's, Contingency Plans, and then Bravo goes into PUA magic. Bravo demonstrates and teaches his closely guarded magic material. Farmer then is up with some amazing cold reads and tarot card demonstration which wraps up as the last lecture of the day.
The clock rolls around and it is already dark outside. It's already time for dinner. I have less than 30 minutes to shave and shower. The rest of the crew has left but Boom sticks with me. No man is left behind on this journey…
Yes my computer background is picture of my wife!
We reach our feasting grounds. We feast on fine meat and potatoes. No ale or wine for us because it soothes the mind too deeply. Our minds must be free and clear for the night calls our souls to hunt down our prey! (As I write this I have "Game of Thrones" on!)
While I'm still chewing down on my pork and mash potatoes, I see Kaboom out of the corner of my eye get up from the table and go open a 2 set that just walked in. I see how this is going to go….While eating, Riddex, Nomad, and I go over game plans with Maestro. What goals we have for the night, what sticking points we have, what material we will be using, etc etc. My goal for the night was to open 10-15 quality sets throughout the night with at least 5 of them going direct and very sexual right away.
---"Don't be the fucking dancing monkey!" Bay told me that once and it has stuck in my head ever since.
And the night begins. Team Maestro heads out to the main bar/hangout area of our first spot. Team Farmer is already in set throughout the place. I'm looking around to see if any sets are available then Maestro tells me a nice set at the bar right behind me, time to open! I go straight over to them and open with the 5 oceans. "Your friend already asked this earlier. Then he showed us some of his gay magic!" Bahahaha! Damnit! This is the 2 set that Kaboom first opened! Well, I get called out but I stay with it, I laugh it off, and plow through but then I get blown out. I go back to Maestro and tell him what happened…
"Wait you opened with the 5 oceans? I thought you were going direct on them!" This ended up being the theme for me, not just for Friday but also Saturday night! Friday night I opened 4 sets that were already opened with 5 oceans and Saturday I opened 2 sets that were already opened with it. All and all it is actually pretty funny and every time I got called out for it I just laugh it off because it really is funny!
I hit my goal for Friday night and opened 12 sets. A lot of the sets I opened; I was in for a while. There were two sets that night however that really stuck out from the rest. First was a two set that I eventually isolated my target. Pretty cute HB with some nice tits, wearing one of those mumu (whatever they're called) summer dresses. Once I had her isolated the flirting was on. She was pushing her tits up against me, hitting me, showing pictures, she basically was giving me the invitation for the Kiss-Close but I didn't go for it. She ejected and I went back to Maestro to talk it over… "I was watching you and her. Her body language was easily telling me more than enough that you had the kiss close. She wanted it from you!" This is my life! I should have lead her to a different spot that was quiet and isolated then gone for the kiss.
We've sarged this location out and we bounce to the next place. Pretty packed but with lots of talent! I take about a 5 minute break to regain my energy. Another thing I notice is that being in set for a while can drain you mentally and emotionally if that set isn't giving any energy back to you. So if you are just giving and giving and the set isn't reciprocating then you are doing something wrong.
At the next place I am hanging and talking with Smoothcall when he tells me to open a 4 set behind me. I walk up and open with 5 oceans. It hooks really well (and they haven't been opened yet!) and I immediately notice the dark hair dark skinned HB of the group. She immediately becomes my target. I ignore her a little bit and really chat it up her friends. I then move to her and isolate her. Again same thing as before, her body language is really flirtatious, she is hitting me, and extremely close into me. She is from Israel but raised in the States, she has a very cute accent. We flirt and I am yelling at myself to go for the KISS. I don't and she ejects.
I head back to SmoothCall and talk it with him. He tells me basically the same thing Maestro did before. "Her body language was all over you man! Why didn't you go for the Kiss? She wanted it!". Ohhhh fuck me! This is def. one of my sticking point and limiting belief I had about myself…"I'm Not good looking enough, I'm too fat, I'm way toooo ugly for a HB I just met to kiss me…." ALL LIES! LIES!!! That little negative voice inside your head can really fuck up your shit if you let! And this is the second set that really stuck out for me that Friday night.
After that I open more sets then we bounce to the next location. Nothing spectacular to mention here on this except for one thing, fucking sneaky ass Cupid! This guy is an opening machine. I was drinking my water, Maestro tells me to open a set behind me. I start walking up to the set, and lo and behold Cupid goes running right past me and opens the set! I turn around towards Maestro with the "WTF??!!" look on my face. Farmer, Maestro, and the crew are busting up laughing!
Stealthy ass Cupid stole my set! Bahahaha! I loved it! That's one of the cool things of PX3, we compete but in a healthy brotherly way. We want to see each other succeed, perform well, and push the limits. One of the ways to bring out the best of you is to inject some competition!
Farmer PhotoBomb!
We hit up one more spot for the night. I open my last sets for the night. They last longer than what I was expecting or really had the energy for. We have some fun at the last joint then we head back to our hotel for debriefing; which ends up being one of the funniest moments from the whole weekend. We share our stories from what happened just hours ago. We talk and examine everything. The Coaches breakdown what we did well, what we did wrong, and what we did well again. I'll let Kaboom share his side of this story from that Friday night debrief but he absolutely had the best responses/comebacks that night. We head to bed past 3 am.
She was fat!
We wake at 9am and head straight into the main room for our session with Smoothcall. I can't go into detail what happened here but I will comment some. I'm a very open minded and tolerant person; that is the Libertarian/Ron Paul side of me. I'm also very science driven and oriented. I'd always been little bit skeptical of hypnosis type of practices but I never gave it a try before... Boy OH Boy what an introduction into hypnosis and tantra Smoothcall gave us!
The session with Smoothcall introduced us to some extremely cool shit that I am now looking into more and want to try explore further! Extremely empowering material, especially for me because I can get down on myself way too much then let the negative voice project. Not anymore! Also one of the funny moments in the session was that I was inadvertently too deeply hypnotized. I don't remember much of it except for the amazing relaxed state I was feeling. I woke up though with a 4 month knot in my mid-back gone (and it is still gone!).
After the session with Smoothcall we go right into the next lecture with Bravo. Again we don't waste any time. We eat lunch while Bravo teaches. Guys take restroom breaks throughout the day but we don't stop as whole for anything. We keep going and going! Which is awesome because we are def. getting our money's worth and more! We go over transitions, goals, SNL's with Farmer, D2's with Maestro, Winging, and then wrap up the day on Kino-Escalation with Bravo. We break for 30 minutes to get ready then head out for our last night…
Kino practice with Farmer and Kaboom
We grab dinner and again as Friday we sit with our respective teams. Team Farmer (Kaboom, Cupid, and BigJeffery) are on one end of the table. Team Maestro (Nomad, Riddex, and I) are on the other end. Bravo takes the middle, that way he can be shared with everyone! We order dinner and Bravo calls out a 3 set that walks by our table and is headed to the back outdoor patio area. I have to beat Kaboom to this one so I go after the 3 set to open but the set has walked out of the area. I go back inside to sit down and I look behind me and Kaboom has already opened a set behind our table. SON OF BITCH!! The bastard is first to open again! LoL! The guy is fearless in the night!
I eat my dinner and go over game plans with Maestro again. For this night I again set the goal of 10 -15 sets to open but this time I'm going for the kiss close and going sexual much sooner without hesitation with lots of KINO. After eating I open a mixed 4 set. There is one guy in it. I assume he is with the group so I show him respect. I talk with him more than the girls. The girls really starting digging my shit and I come to find out the dude just met to them earlier. I blow him out and all the girl's attention is on me. We chit chat and then I eject because it's time we move on to our next hunting ground.
We hit up a notorious hipster bar that has a rich history of where Bravo originally practiced PU back in the day. There are lots and lots of cute hipster chicks all around the place. We walk in and I immediately go into a 3 set with a very cute blonde hipster. I loose track of time and end being in this set way too long. I picked a target but I didn't Kino then isolate. I was giving tons of energy but I started to lose the group. I get rejected when I finally do try to isolate the target but by this time it's too late. Another lesson learned: Go for it earlier rather than later. I move on and head back to where the crew is hanging.
Right away Bravo calls out a sexy 2 set for me. I immediately go into the set. Again almost same thing happens here. I go into the set nicely, it hooks well, I transition but I don't pick out a target. I give and give tons of energy but I don't receive any back and I feel my energy levels dying out. My mind starts going numb and the set dies out. Another lesson learned, I'm there to get sexual, not to have an hour long pen pal conversation with the girls!
After that set I am just feeling completely wiped out! Two long sets in a row that I stayed in way too long and let die out. I talk to Smoothcall and he gives me a great quick exercise to go practice outside away from the noise and crowds. I come back in the place feeling sooo much more energized and ready to go! The hunt is back on and I start looking for a set to open; then Maestro grabs me because the crew is bouncing to another location! On the way to the next location I bug Smoothcall with lots of questions on tantra, unlocking your subconscious, and some other cool stuff. Awesome guy!
At the next location I'm feeling really energized and go right into a set and practice the magic that Bravo taught us on Friday. The trick doesn't go smoothly but nonetheless it's still good practice and a fun way to interact with HB's. I move on to a next set and they end up losing on the 5 questions game. They're butt hurt I won't buy shots for them and they move on.
We end up bouncing to 3 more places that night. At the second to last location we see a cat fight break out! They were fighting over us…
(Honestly don't know what the hell the fights was about) Perfect opportunity to use the Mystery Cat Fight opener LOL! After that it's 2 am we end up at a dueling piano bar. We are so on fire we cause the fire alarms to go off in the place! More than once!
We head back to the hotel for debriefing. We debrief until 4 am! It's a sad and happy moment because it's the last debrief of the weekend. We share our stories from the night. Again we go over positives, negatives, and the positives. Big thing for me is to pick my target right away and get sexual with it. We all go over our goals from the night. All 6 of us PX3 students together easily opened well over 100 sets that night! We end the debrief at 4 am and head to bed.
I'm BigJefferey and I rock out with my cock out!
Maestro and Cupid gettin' frisky!
We wake again at 9 am and go right into another session with Smoothcall. The sessions is a little different from Saturday morning but nonetheless still extremely powerful. This time Cupid ends up experiencing something similar to what I experienced on Saturday but I'll let him comment on that.
After Smoothcall's session we go right back into lectures with Bravo then Daygame lecture by Maestro. After the lectures are done we clean up the main room and move our bags. We get changed then head out for lunch and then Daygame with Fashion makeovers!
Posture damnit!
Bravo takes us to a mall with tons of shops and prime Daygame HB's. We go in and split up again. Half of us head with Maestro to practice Daygame and the other half with Bravo and Farmer for fashion makeovers. We go over the do's and don'ts of fashion. Bravo helps us handpick out clothes that are in style and go well with our body types. I can't comment what went on with Maestro and the Daygame crew because I was with the Fashion crew for the day. We go over jeans, shirts, shoes, boots, hair style, and accessories. By this time it's almost 6pm and I can tell Bravo and the Coaches are exhausted. Bravo is losing his voice but continues on! We finish up at the mall and head back to the hotel.
We relax for a little bit while Bravo finishes up last minute PX3 business. While Bravo does he thing, all of the other coaches keep answering questions and we get into discussions on threesomes and advanced sexual techniques. Very awesome cool shit!
Threesomes. Easy, what do you want to know?
We wrap up and head off for our last dinner together. The time rings 830pm, Bravo and the coaches are officially off the clock! (If you've been keeping track of time, it's been over 59 hours now with about 11 hours of sleep. Think about that for a second.) We all order a beer and knock glasses in celebration! PX3 is over and the relaxation can set it. Bravo and the coaches go from coaching mode to brother mode. I continue asking questions, taking mental notes from Bravo and the Coaches. I won't get to see these guys again for a while and I hate goodbyes! We talk, eat, and drink. PX3 crew assumes the night is over but Bravo has one last surprise in store for us…
Fucking Steve P! The man shows up again! Holy shit, seeing this guy work his stuff in field is very freakin cool. His energy transfers to all of us. We easily have everyone in the whole place looking at us and wondering what the hell is going on….If they only knew…Well they probably couldn't handle it. LOL!
We wrap dinner with Bravo, Coaches, Steve P. and Danguess. We all head over to the hotel for another round of question and answer sessions with Steve P. Then again he puts us under with dual induction hypnosis. After finishing up, its 1230am! Bravo and the coaches have officially been off the clock since 830pm and stay with us for additional 4 hours! How fucking awesome is that! Where else are you going to get that? NO WHERE! You know why? Bravo and his coaches don't worship the almighty dollar. They don't see us, PX3 students, as just dollar signs. They actually care and want to see us succeed. We're not just students anymore but now we are part of the PX BrotherHood. Bravo has brought all of these guys together, that might not have a lot in common except for having women problems, and forged an everlasting BrotherHood.
Cunts
By this time it's getting late and everyone is dead tired. We say our goodbyes. Bravo and the Coaches grab their shit. We say our last good byes and then hit the hay. We wake in the morning and get one last quick breakfast together before BigJefferey, Cupid, and Riddex fly out. We get a couple of last pictures all together then say our goodbyes. Kaboom, Nomad, and I watch as the other three drive off to the airport.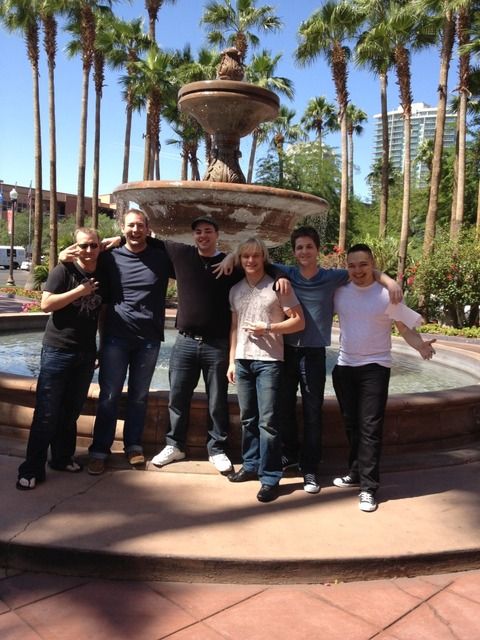 Three Guns Up!
I'm still with Kaboom and Nomad at this time but I'm feeling extremely sad that we couldn't have more time with all 6 of us together. Three days just wasn't enough time for this. It went by way tooooooo fucking fast! But that is how life works.
Kaboom, Nomad, and I pack up and have to transfer hotels. We hop over to our new hotel and relax for a bit. After resting up we decide to practice Daygame. Kaboom and I open some cute sets in. We then shop some more at nice outdoor shopping area. Nomad is starving but still hasn't cold approached a set yet. I tell Nomad, "Hired guns don't count!" Nomad and Kaboom really want to get dinner but I tell them both that we aren't eating until Nomad gets at-least 1 cold approach done. (Funny thing how starving can motivate you to get opening sets!)
Nomad on the right working the two set
Nomad gets his set in and the girl asks for his phone number! Funny that, a girl asking you for a phone number…We move on and finally get dinner! We eat up and enjoy ourselves. Kaboom and I open some more sets, we all have fun with the waitress who is a UT LongHorn fan, YUCK! We head back to the hotel.
PX3 Guns Up!
Nomad takes the early flight, 4am! Kaboom and I wake up with him and say our goodbyes. Kaboom and I fall back asleep then wake up again and we grab a quick breakfast. We grab our shit and head over the airport together. Our flights are located at different terminals so we say goodbye on the bus. We say good bye with, "ROCK OUT WITH YOUR COCK OUT!" And this is said loudly on a full bus! LOL!! We don't give a shit. We hug and say goodbye.
I check my bag and head up to security. I start going through the damn TSA (Tyrannical Security Administration) check point. I get through it just fine but a gorgeous two set is getting harassed by a TSA agent….After the two set gets through the checkpoint, I smile. I walk over and open them….
--------------------------------------------------------------------------------------------------------------------------
The Aftermath
Wow. I mean really, Wow. It's extremely difficult for me to articulate and put into a clear manner of words of how to describe Project X because Project X is Such an Over-whelming experience. And it's over-whelming in a positive manner. There is soooo much material, energy, and new thought processes delivered to you throughout the weekend. Guys in the past have said, "It's life transforming!" And it really is IF you are open to it and ready to work on yourself. Bravo and the Coaches can show you the way by opening up some fucking awesome doors, but only you can decide to take that step forward going through that door. And it's one hell of a ride if you do! Is it easy? Hell NO! Things in life that are worth anything don't come easy! You have to work for it. Persistence and tenacity is paramount to this game of life, and PU!
Since PX3 I've noticed several big changes in me. Probably the biggest one is that I'm not longer intimated by women or have this place in my head that somehow women are so different and special from us men. They're NOT! Women eat, shit, and die just like us men do. Before I used to be intimated walking around campus. Not anymore. While studying I have people coming up to me and socializing. (I probably need to find a more isolated study spot in the library) I feel empowered mentality and emotionally. The nights of freaking out when Lone-Wolf sarging are done and gone. Getting the in Field critiquing was paramount for me. I have never attended a boot camp before PX3 and my only experience was from the coaching calls with Bravo. I needed the infield critiquing to get that immediate feed-back on what I need to fix. I have that now. I can go forward and give the HB's the gift of being with me…And my Cock!
After PX3 is said and done, the journey does not end for us. I hate to get cliché here but it truly is just the beginning for us. We walked through the door and into a world that I haven't seen before. I've gone through and I can't go back. I see everything I want in life is within my grasps. All I have to do to get it is just to reach out. All of those sleepless nights of frustrations and wondering why girls don't find me attractive are gone. Now it's, "I wonder who the lucky girl is that deserves and is worthy enough to hang with me and get the gift of my cock?"
From time to time you might see some inside jokes being talked about in the forum by PX3 and fellow Project X Alumni…There is a reason for this. It isn't just for shits and giggles. The inside jokes are part of the bonding experience took place with all the guys. It's an emotional trigger that takes us back to that infamous weekend. NO homo, but it truly is a bonding experience. Six awesome and high quality guys from different walks of life come together for a common theme of gaining control of their love lives and releasing their inner Beast. The bonds with my fellow PX3 Brothers are going to last till the day I die…And that is something money cannot buy…
Some of the inside fun:
Please, tell me more...
Cut the Cunt loose!
Fucking Netflix
Call them sweet names, like HoneyCunt!
You know, treat them with love and respect
Out of all the questions you could ask me, you ask me that?
Yes, Kaboom. Oh, you're just stretching. Fuck you, I'm not answering anymore of your questions!
Congratulations Kaboom. You're PX3 Alpha-Omega man...Prize? No you don't win a fucking prize.
Licensed Real-Estate Professional, damnit!
Is he filming us?
So are you getting that abortion tomorrow?
Penis-sense
You're useless!
Useless cunts!
Stop being fat
Useless fat cunts
What, Me and Maestro aren't good enough for you?
Standing up vs. Sitting down. Is there really a debate about this?
No and don't ever say that again. It'll turn your dick inside out. You know, like a vag.
Medical School uh? No, that won't help. You need to take some classes on business management if
you wanna get your bitches trained right.
If the cunt brings a dildo to your place you take the fucking thing and smack her with it!
If you don't open them in 3 seconds I am. 3 seconds!
If I had known that I would have told you to go direct!
Fucking posture damnit!
Kino-Tag PDF E-book coming to you soon. This shit is total game changer!
The point of a D2 is to get your dick wet, not to stuff your face!